"The day that sees an end to the denial of the spirit, a denial that is characteristic of modern positivism, the day when we recognize that we must build upon a thinking freed from the tyranny of the senses, upon spiritual investigation, including all that is called science in the ethical, social and political domain, that day will mark the dawn of a new humanity. If people understood what freedom and its establishment would signify for the world, then the light which many seek today would lighten the prevailing darkness of our time."
Rudolf Steiner
CRITICAL EXAMINATIONS ABOUT VACCINATION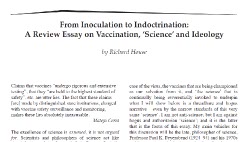 FROM INOCULATION TO INDOCTRINATION BY BOGUS SCIENCE
An excellent essay that is confronting the disgracefully one-sided propaganda narrative in mainstream political system and media, centred on the Covid-19 vaccines. The author shows how the vaccines that are being championed as our salvation from this supposedly new illness – and the claims of authoritarian 'science' that are continually being reverentially invoked to underpin vaccinations – are threadbare and bogus narratives even by the narrow standards of this very same 'science'. The essay provides plenty of insightful arguments that are mainly taken from two books: Science in a Free Society by Paul Feyerabend, and Ideological Constructs of Vaccination by Mateja Černič.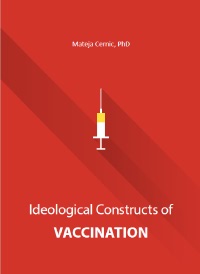 IN-DEPTH SCIENTIFIC DECONSTRUCTION OF IDEOLOGY OF VACCINATION
There are many blogs and simplified books that are a good start for investigation of many issues about vaccines, but this 480-page long book can be set apart from the majority of other books due to its complexity, the width of its scope and the depth of knowledge one gains from reading it – not just the knowledge about vaccines themselves, but equally the knowledge about the workings of the relevant social systems, science, medicine, etc. For only with such in-depth knowledge can one fight the woefully one-sided mainstream discourse on mass vaccination in favour of vaccination ideology and consequent manipulation of public opinion and censorship and repression of opponents of this attack on humanity.
❖ See 33-pages long Book Rewiev Summary by Richard House, Ph.D.
❖ See 6-pages long review of the book
Ideological Constructs of Vaccination by Richard House
❖ See Vaccination in Sociological and Paradigmatic Perspective,
Interview with the author of the book, Mateja Černič, by Richard House.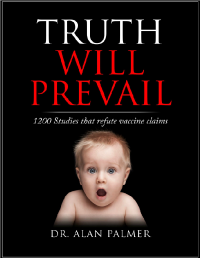 A REPORT OF 1200 STUDIES THAT REFUTE VACCINE CLAIMS
We are consistently told by the media and the medical spokespersons on television, radio and the internet, that "the science is settled" on the issue of vaccines. However, this e-Book shows that this is far from the truth. Its contents are evidence based and substantiated by extensive research published in medical and scientific journals. Although it has 737 pages it also contains several hundred links that you can click on, giving you instant access to the information you are most interested in and to the actual studies that are corroborating everything reported in this document.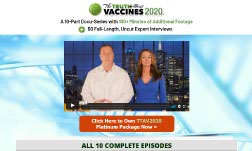 INDEPENDENT EXPERTS REVEAL THE HIDDEN TRUTHS ABOUT VACCINES
This documentary series contains 10 DVDs with interviews with 54 medical experts, scientists, writers and activists about the various hotly discussed aspects of vaccinations. It is a good guide to help people to distinguish facts from the narratives of the official medical propaganda. The negative side is that it is rather expensive; but if you have a circle of people fighting against mandatory vaccination you can share the costs of purchase.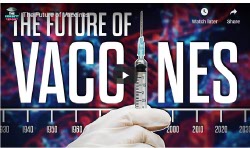 THE DYSTOPIAN FUTURE OF VACCINES AS BIOLOGICAL SOFTWARE
Since the dawn of the corona crisis the representatives of the international medical establishment are openly stating that our lives will not return to normal until the entire planet is vaccinated against new corona virus. As the result we are witnessing the headlong rush to push an experimental vaccine on the majority of the world's population, even with the help of army. Even more incredible is the fact that new mRNA vaccines which reprogram cells to produce antigens bear very little resemblance to the 'vaccines' as anyone in the general public understands them. For that reason the consequences of their use on human genome and health are unpredictable. In spite of this, ever more incredible technologies are being pioneered (from bioelectronics to nanorobotics to synthetic biology) that – whether or not they are marketed to the public under the catch-all term of 'vaccine' – will operate in ways that are fundamentally unlike anything before used on the human population.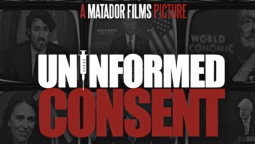 THE FORCEFUL VACCINATION WITHOUT ANY REAL CONSENT
An in depth look into the Covid 19 narrative, who's controlling it and how it's being used to inject an untested, new technology into almost every person on the planet. The film explores how the narrative is being used to strip us of our human rights while weaving in the impact of mandates in a deeply powerful story of one man's tragic loss. Hear the truth from doctors and scientists not afraid to stand up against Big Pharma and the elite class who profit from mandates.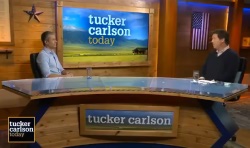 NEW COVID VACCINES ARE INHIBITING AND ARRESTING HUMAN HEARTS
One of the best known cardiologists in UK, Dr. Aseem Malhotra, went from promoting Covid vaccines on television to questioning the physical effects of vaccines on health of people. Although he was already aware before of problems with corruption in the pharmaceutical industry and harm due to over medicalisation, he then could not fathom the possibility that vaccine could do any significant damage to the body whatsoever. Then in 2021 his father, retired general practitioner, a strong proponent of the vaccination, died due to unexplained cardiac arrest. He was super fit, his diet was good and his cardiac status, which was regularly monitored, was fine. But in the post-mortem examination they found that two of his arteries were severely narrowed. At that time Dr. Malhotra still did not link such rapid progression of coronary artery disease to his father's vaccination. This happened only when he received two reports of cardiologists (one from the US and one from England) which confirmed the link between the mRNA vaccines and increased markers of inflammation linked to coronary heart disease.

PROMOTION AND ADVERTISING OF VACCINATION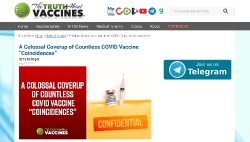 VACCINE PROPAGANDA PLAYBOOK REVEALED
In this article you'll find the information about the Vaccine Demand Observatory which was created or is supported by Bill and Melinda Gates Foundation, Public Good Projects, Google, Facebook, Yale Institute for Global Health and World Health Organization. Their common aim is to advance the world's ability to decrease the impact of vaccine 'misinformation' and increase vaccine demand. For this purpose they use various tactics and strategies, such as: emphasizing the danger of Covid-19; making vaccination easy, quick and affordable; building timely trust in vaccines and downplaying the vaccine risks; harnessing social influences from people who are particularly trusted in relevant communities; and emphasizing that vaccination not only benefits individuals who receive the vaccine, but also protects others in the community.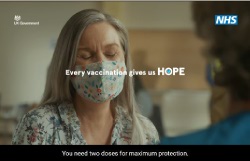 EVERY VACCINATION GIVES HOPE FOR REDEMPTION
An example of the art of advertising using enchanting music and heartfelt pictures of people socialising in vaccination hubs with the aim to lull everyone to "join the millions already vaccinated to protect yourself and others." Finishing with the magical spell of: "You need two doses for maximum protection!" And with the reassurance of the faithful that "every vaccination gives us hope" for redemption from an evil disease.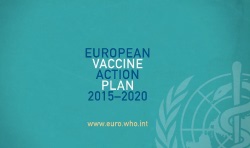 ALL IS NICE IN THE 'VACCINE PARADISE'
We are assured that progress in the field of vaccination "has been phenomenal". However, as people are still dying all countries need to commit to immunization as priority. People need to recognize the vaccination as a "force for good" in public health to such extent that they will absolutely trust authorities and "demand immunization as their right" and their responsibility. The aim is that "no one is excluded" from contributing to the mission to reach the vaccine-induced-promised-land of disease-free-paradise.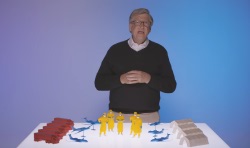 THE RESCUE 'EPIDEMIC ARMY' IS ALREADY IN PREPARATION
According to Bill Gates, for dealing with the future pandemics we need field-based capabilities that constantly monitor for troubling pathogens. That requires a global alert system, which we don't have on a large scale today. The backbone of this system would be mega testing diagnostic platforms which can test 20% of entire population every week. If the samples turn out to be some super infectious – or entirely new – pathogen, a group of infectious disease first responders springs into action. He estimates that we need somewhere around 3,000 NATO-like bases of epidemic responders throughout the world to be really ready for the next pandemics.