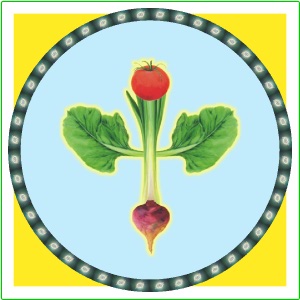 Three Groups of Vegetables
Help for Composing Threefold Vegetable Dishes

Introductory Reading:
IIn the great majority of cultivated vegetables it is possible to recognise to which part of a plant they belong: Is it the root, or stem, or leaves, or blossom, or fruit part, or seeds of a plant? [1] But there are a few vegetables where this is not so easy. For example, onions are swollen stems (as is visible from the similar structure of the fennel bulb) but grow under the earth as roots do. Such plants are plants in between, having some characteristics of both groups. For that reason they are listed in one group with the additional group of which they have some characteristics in the brackets. For example, onions are listed as root vegetable group with stem in brackets.
Root
Stem – Leaf
Flower – Fruit – Seed
Beetroot
Carrot
Celeriac
Garlic (stem)
Jerusalem Artichoke
Light Root
Parsnip
Potato (stem) [2]
Radish
Salsify
Swede
Sweet Potato
Turnip
Asparagus
Brussels Sprouts
Broccoli
Cabbage
Cauliflower (flower)
Celery
Chard
Chicory
Chinese Cabbage
Collard Greens
Endive (Escarole)
Fennel
Garlic (root) [3]
Kale
Kohlrabi
Leek
Lettuces
Onions (root)
Pak Choi
Radicchio
Rhubarb
Rocket
Savoy Cabbage
Shallot (root)
Spinach
Spring Greens
Water Cress
Artichoke
Aubergine
Broad Beans
Beans
Courgette
Cucumber
French Beans
Lentils
Marrow
Peas
Pepper
Pumpkin
Runner Beans
Soya Beans
Squashes
Sweet Chestnut
Tomato
All fruits, seeds, and nuts belong to the Flower-Fruit-Seed group. There is one notable exception: peanuts. [4] They develop their seeds under the earth. This means that they are seeds, but with some root characteristics.
The group Flower-Fruit-Seed also contains seeds which we can use instead of cereals, such as buckwheat, amaranth, quinoa, etc. These plants form typical flowers, while the flowers of cereals are – with the exception of maize – very similar to other parts of the cereal ear.

NOTES
This list of vegetables is made from North Western perspective without more exotic imported vegetables. I hope that in future people will add other lists of vegetables available in different parts of the world.
Although potatoes are stem tubers they look more similar to other root vegetables, such as celeriac, or Jerusalem artichoke than is the case with onions which are more similar to the fennel. For that reason onions are listed in the stem group while potatoes in the root group.
In the case of garlic it is really difficult to say which characteristic is dominant. For they grow in the earth and have a compact and firm texture similar to the roots, but they are similar to onions in their odour (both being swollen stems). For that reason I have put them in both groups and leave the choice to you.
If you know any other exception, please let me know!