"The day that sees an end to the denial of the spirit, a denial that is characteristic of modern positivism, the day when we recognize that we must build upon a thinking freed from the tyranny of the senses, upon spiritual investigation, including all that is called science in the ethical, social and political domain, that day will mark the dawn of a new humanity. If people understood what freedom and its establishment would signify for the world, then the light which many seek today would lighten the prevailing darkness of our time."
Rudolf Steiner
on the origins of the present crisis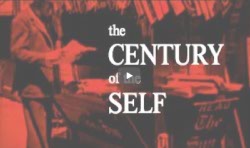 ON THE ORIGIN OF MANIPULATIONS OF PUBLIC OPINION
An almost 4 hours long documentary about the invention of so-called 'public relations' (euphemism for manipulation of public opinion) by Edward Bernays, nephew of Sigmund Freud in 1920s. Bernays was one of the main architects of modern techniques of mass-consumer persuasion, using every trick in the book, from celebrity endorsement to eroticising the products. This sophisticated approach of mass-consumer persuasion has become the standard tool of corporations and political organisations to stir public demands and opinions in the direction they prefer.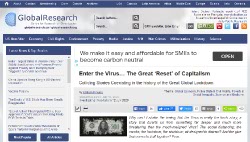 MINDSPACE – INFLUENCING BEHAVIOUR THROUGH PUBLIC POLICY
If you want something shorter then you can read this article which describes some difficulties the present economic system is encountering and attempts to steer public opinion into directions of the 'great reset' that is favourable to the ruling classes. In the last part of the article (subtitled Giving the state 'permission' to imprison us), we can read about the document Mindspace – Influencing Behaviour through Public Policy that contains guidelines for British governmental bodies for manipulation of public opinion in the case of the present crisis.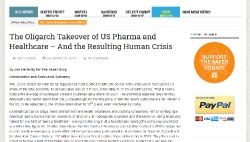 HEALTHCARE AS A SUCCESSFUL BUSINESS MODEL
The United States runs the by far largest and most bloated healthcare sector in the world when measured as a share of the total economy. Exorbitant prices on drugs, medical treatment and health insurances are crushing consumers. In addition to the original sin of corporate greed, the exorbitant costs of the US healthcare system stem from layers upon layers of distortions with which the system is infested. Each part of the healthcare industry contributes to what is a giant monopoly scam: the pharmaceutical companies, medical equipment manufacturers, drug wholesalers, drug stores, group purchasing organizations, health insurance companies, doctors, clinics and hospitals, and even what should be impartial university research.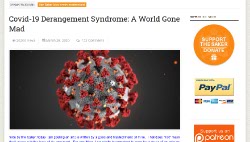 THE RARITY OF AN OBJECTIVE INDEPENDENT SCIENCE
An example of a common sense approach by a fire-fighter based on his experiences of regular encounters with very dangerous situations without fear. The article contains short characterisations of Three Kinds of Science with the aim to distinguish the real science from 'agenda based science' and 'bought and paid for corporate science' – with the obvious conclusion that much of what passes as 'science' these days belong to the last two types.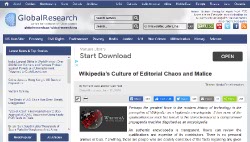 WIKIPEDIA'S BIAS AGAINST ALTERNATIVE THERAPIES
If you have the perception of Wikipedia as a legitimate encyclopaedia then you should read this article which is exposing it as nothing more than a propaganda machine disguised as an encyclopaedia. This is more than evident from the content based upon the pharmaceutical paradigm of therapy which is always presented as acceptable, while all other methods of healing are rejected and degraded as pseudoscience, quackery or charlatanry.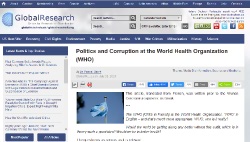 No reason to trust the World Health Organization
The World Health Organization (WHO) is a sort of transnational superministry for health. Its power overrides that of its national equivalents. It is not subjected to genuinely democratic electoral procedures, in the sense of representing the choice expressed by the populations of its member countries. In this case globalisation has not brought about a world that is better governed, more just, more transparent, but on the contrary, has created a system that is harder to decipher and understand, and is all-powerful. This brew of omnipotence and dense secrecy, of being all-powerful and totally resistant to democratic investigation, is deadly. Therefore the world would be getting much better health without the WHO whose original mission has been hijacked for the sake of financial profits for the few.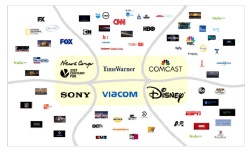 BLACKROCK & VANGUARD OWN MAINSTREAM MEDIA & BIG PHARMA
Just two asset management firms, Vanguard and BlackRock are the top two owners of the four media companies that control more than 90% of the US media landscape. BlackRock and Vanguard form a secret monopoly that owns just about everything else you can think of too. In all, they have ownership in 1,600 American firms, which in 2015 had combined revenues of $9.1 trillion. When you add in the third-largest global owner, State Street, their combined ownership encompasses nearly 90% of all S&P 500 firms (the largest US publicly traded companies). And the owners of these three asset management firms are the members of the richest families and individuals in the world.
how to reclaim our basic human rights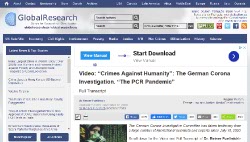 THE GERMAN CORONA INVESTIGATION OF CRIMES AGAINST HUMANITY
In this contribution we can read the summary and the full transcript of the video presentation by lawyer Reiner Fuellmich, one of four members of the German Corona Investigative Committee that has been listening to a large number of international scientists' and experts' testimony to find answers to the burning questions about the corona crisis. According to this committee all those responsible for 'the corona scandal' must be criminally prosecuted and sued for civil damages. And on a political level, everything must be done to make sure that no one will ever again be in a position of such power as to be able to defraud and manipulate public to such extent as it happened in this case.
See the list of the video interviews by the German Corona Investigative Committee in German
(and English whenever an English-speaking expert is interviewed)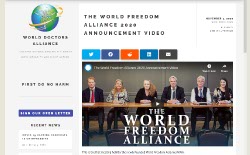 THE WORLD FREEDOM ALLIANCE OF DOCTORS WITH INTEGRITY
In the dark times of the tyranny of the corona 'safety measures' and 'vaccine is the only solution' propaganda there are doctors, lawyers and various activists rising to reclaim our basic human rights, including freedom of free speech, freedom of assembly and freedom of bodily integrity. This alliance is uniting groups and individuals across health, law and education with the aim to empower people to defend themselves against an unprecedented level of intrusion in their personal lives.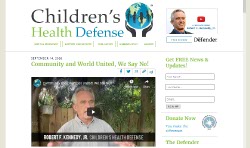 WORLDWIDE UNION OF PEOPLE FOR MEDICAL FREEDOM
Various organisations are working together to pushback on medical mandates, unsafe vaccines, and increasingly totalitarian governments. In the coming months, these issues will be front and centre in discussions around the world as people decide whether to cling tightly to their freedoms or blindly follow whatever edicts are put in place by corrupt government officials and profit-driven corporations.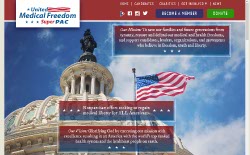 AMERICAN PEOPLE RECLAIMING THEIR MEDICAL LIBERTY
This is a nonpartisan association of people seeking to regain medical liberty for all Americans. Their mission is to save people from the medical tyranny of the present medical system in USA with the vision to establish in the future the world's top ranked health system.