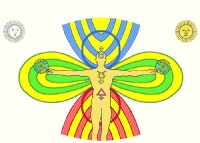 Threefold Structure of the Content
This website is for those people who would like to free themselves in regard to nutritional 'you should' and 'you should not'. For that purpose one needs to gain a truly holistic understanding of the human being as a being of body, soul and spirit and the effects various foods have on these entities. To enable you to gain such an understanding this website is divided into three main parts:
Holistic Approach to Nutrition

gives the initial descriptions of the most important characteristics of the holistic approach to the research of nutrition from the spiritual-scientific perspective which will enable you to understand the nutritional principles that follow.

Fundamental Principles of Nutrition

gives explanations of the basic laws of nutrition which enable one to gain proper understanding of the complex relationships between various kingdoms of nature and the human being. These explanations are the central part of the website.

General Nutritional Guidelines

gives basic guidelines for the practical implementation of new nutritional insights. These guidelines do not prescribe any specific diets; what they offer is assistance to those people who want to find out what is the best diet for them.
Two Levels of Explanations
Level 1: Basic Level
The basic level is accessible to all open-minded people; explanations can be checked by common sense and by the facts of life.
This level is for those people who wish to get to know some fundamental laws of nutrition and then – with the help of General Nutritional Guidelines – immediately want to improve their nutrition.
On this level is available only limited number of the Fundamental Principles of Nutrition (7).

Level 2: Advanced Level
This level is designed for those individuals who really wish to understand the modern challenges we are confronted with in the domain of nutrition. This level is appropriate only for those open to the existence of soul and spirit, including those interested in the spiritual-scientific approach to the questions of nutrition.
This level is available only after registration and payment, but it contains more than enough explanations of the Fundamental Principles of Nutrition (54) to enable you to gain such understanding of the most important nutritional relationships between food and the human being which enables the real freedom of choice.