SOURCES OF LIFE EXPERIENCES
I would not be able to develop my present holistic understanding of nutrition without spiritual-scientific ideas on one side and without rich life experiences in regard to nutrition on the other. In fact, I have experiences in almost all fields of nutrition: food processing, marketing, promotion, lobbying via non-governmental organisations, therapeutic work, cooking, research and education. The only experience I do not have is (organic) farming.
Bellow are short summaries of the most important initiatives and work experiences I have had since 1988, the year I became active in the natural food movement in Slovenia.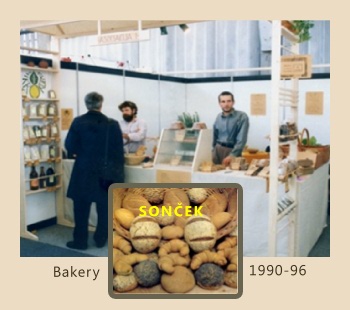 It was small-scale bakery started by me and Franci Suhadolnik. It was the first in Slovenia to use wholemeal flours and natural ingredients [1] for making cakes, biscuits, pastries, bread, and vegetarian sandwiches. We worked in collaboration with the Slovenian Union for Cerebral Palsy, employing a few young people with milder forms of cerebral palsy. [2]
Bakery Sonček (Small Sun) became a well-known trademark in the newly emerging Slovenian organic/natural food market. Our products were highly appreciated by customers searching for good quality bread, crackers, and sweet products which were made with natural sweeteners.
For me it was a fascinating journey from the initial idea to realisation – from vision to action. There were plenty of challenges and obstacles all demanding creative solutions. On the whole it was source of extremely rich and diverse experiences of the pioneer stage of organic agriculture, a time with continuous public promotion of new ideas and new products.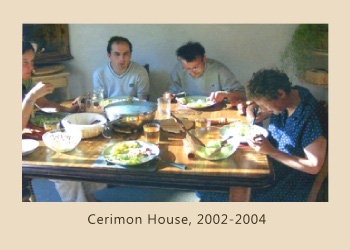 I worked as a single house-parent [3] and I had to take care of three residents with special needs who were extremely challenging, each in a different way. This was the first time I had the opportunity of seeing the healing effect of my holistic nutritional approach in a therapeutic setting. I had not expected such dramatic results – I was really taken by surprise by all the positive changes in the behaviour of my three residents. The changes were so evident that everyone – co-workers, parents, social workers, and visitors – noticed them.
This job was the hardest in my life so far; but at the same time it was the source of extraordinary experiences which inspired and empowered me to start teaching other people about nutrition.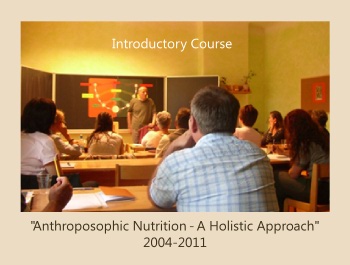 In 2004 I delivered the first version of this course out of the question: What should everyone know about nutrition to be able to make proper food choices? For that aim I started to formulate what I call fundamental principles of holistic approach to nutrition. This work involved extensive research which enabled me to expand my understanding of nutrition. The content has been metamorphosing and growing with each new 'repetition' of the course. It has now become the basis out of which the content of this website has been emerging.
In the summer of 2007 I delivered the course in Ljubljana (see picture). It has been great satisfaction for me to return to Slovenia with a gift of my new, expanded understanding of nutrition. This was the beginning of my ongoing lecturing in Slovenia.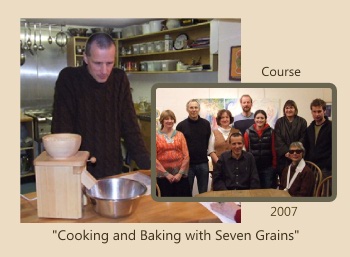 A special event in my educational activities has been the first (and so far the only) practical course. I have given it at the request of the participants of my Introductory Course (see above) held in Sheffield in the autumn of 2006. We met together on eleven Mondays. It was a very relaxing atmosphere when we were preparing dishes and then eating them together. We all missed those sessions when they had to stop.
Another very positive outcome of this course was that five participants afterwards decided to buy the same type of electric grain mill which was used for the course. This means that even in such a short time they had been able to experience a relatively subtle difference in the quality of dishes and baking products made from freshly ground flour.